From backstage to limelight: my week at the Oxford Tennis Camp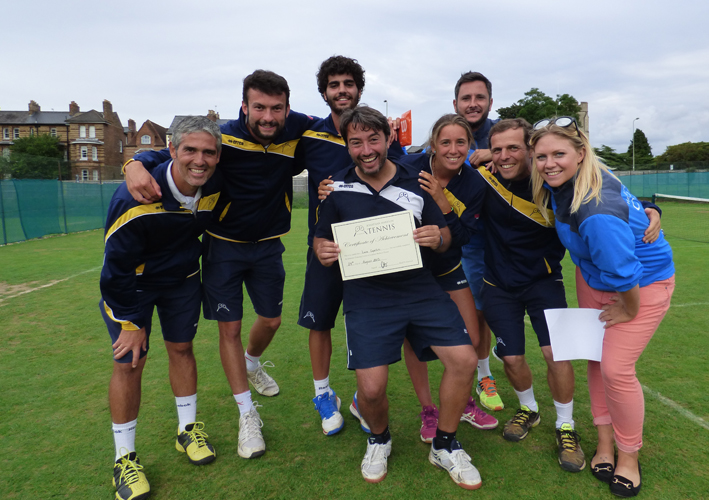 Day 7: Saturday 29th August - Tournament Day
The last day of camp had in store for us adults a morning of extra-coaching and an afternoon filled with an exciting "Round Robin" tournament. Coach Arnau (a young professional from Catalunya, Spain) ran us hard on baseline and attacking drills as well as a serve-and-return match that helped our accuracy on such strokes.
Needless to say, by the time the afternoon tournament came, we barely had the energies left to face it, but we did feel like it was a great way to test our improved skills. We all played each other in turns, with lots of suspense and thrilling moments, especially towards the end, when even a match's point split would be relevant to determine who would win the tournament. Eventually, my partner in crime Rebecca won, and I believe she won with merit. Runner-up was Fabrizio, whom to me was the most complete adult player of all, but who did lose to Rebecca. My consolation was to be the only one to have beaten Rebecca (no longer my nemesis!), having then lost to Fabrizio (and Jeff).
There was then a final prize-giving and farewell speech with all players receiving the "Jonathan Markson Tennis" certificate of attendance. No matter who won, it was fun for all and we all learned a lot, which we now have to take home and develop putting in as many hours of tennis as we can.
Dinner was at The Vaults (Oxford University's Old Congregation House of 1320), followed by a pub tour that took us around town to pubs dating back as far as the 1200s. A fun and interesting way to end a fun and interesting week.
Saying goodbye was a bit touching. We all thought we should meet again next year. Whether this happens for me or not, I feel privileged I had the chance to fully experience something I had only tried for one day before, having been working behind the curtain with our Director Matthew. An honest "thank you" goes out to him, the ops managers Miriam, Emily, all the coaches and whoever got involved to make it all happen. Yet, of course, our utmost thanks go out to Mr. Jonathan Markson himself, who started from nothing something amazing that this year reached its 34th edition, and which we're only trying to keep level with his legacy, also through to the relentless support of his family.
That's all, folks. I hope this day-to-day blog helped whet your appetite for our Oxford camp of for any of our other camps and clinics. I'm looking forward to seeing you on court!
Day 6: Friday 28th August - Friday? Already?
We woke up to a gorgeous shiny day and, after the usual strong breakfast, we rushed to the grass courts yearning to make the most of this weather.
The morning session was a challenging mix of warm-up, rallies, fore- and back-hand drills, volleys and even a personal tie-break with Carlos the coach (to whom I lost miserably, though learning about unsuspected aspects of my game that need attention). During this session we all got to try new racquets lent by JMT sponsor - Wilson. Vipra (I mean, "Viper" on the courts) and Alicia shared my infatuation for the "Burn" and the "Amplifeel 99" models (they may not be the racquets' actual names but that's what I remembered reading on them). While I'm not too keen on switching too often to fancy new racquets, I could realize first-hand that as your game progresses, your ideal racquet changes too.
In the afternoon we switched to the hard courts and got in several doubles' exercises that, as much fun as they were, did poke our competitive edge, with some of us (...) getting all creative implementing more than a few teasing tricks and psychological tactics in order to distract the opponent and win the points. This happened also during the last and most viewer-attended challenge in which Ralph (coach) and I took on Paco (coach) and Chris (who's a similar age as I am and definitely no newbie at playing mind games on the court, like me). My start was less than brilliant, feeling the pressure of pleasing my team mate (a coach!) and having to beat very skilled opponents. Yet, as the games went by, the heat got more and more real (and fun) and only time could put a stop to a somewhat epic match that when time was up saw our opponents leading 4-3. I like to think it's not over yet...
The evening was one of the most enjoyable of the whole week. Dinner was at a Pizza Express fashioned out of an ancient true-to-form Tudor house in the middle of Oxford, with crooked and somewhat rudimental walls and wood beams: so cozy you forget you're in a chain restaurant.
However, the best came for last. The after-dinner programme was a demo of Real Tennis. The backstory that not everyone knows is that the tennis we all love is actually called "Lawn Tennis". "Real Tennis" is something completely different, an odd but extremely fascinating ancestor of today's tennis that is played indoors, with asymmetric and uneven walls, a sloping net, heavy wooden racquets with a skewed tiny head, stuffed balls that don't bounce much, a box at one far-right corner whose unicorn painted within you need to hit, a backdrop net behind you that your opponent needs to hit once your ball drops down from the roof-like upper level you shot the ball over to, and really who knows how many bizarre rules I can't even imagine now. Anyway, long story short: we all got a go at hitting the unicorn and, switching to the other side, the backdrop net. It was about 20-25 of us and in the end I, Luca from the office, was the only one who hit both (video of it to come)! I know this might sound like nothing to a reader (it's already confusing enough just understanding what this sports looks like), but it did make me kind of a big deal for about 3 seconds. As a matter of fact, I think I found my sport...
And yet tomorrow is the singles' tournament day and we need to keep focused. Tennis, real or lawn, is what this week is all about and a grand final is in order.
Day 5: Thursday 27th August - Here comes the sun!
A full-on action-packed programme unfolded today, once again on the dreamy grass courts that made it a bit easier on my aching legs. Accent was first on volleys and smashes, then on baseline shots and serves, both in singles and doubles scenarios. I can't say I was in my top shape but all in all I did perform not too shabby, between a joke and a chat (when we had time, that is) with the fun bunch of adult participants previously described.
The day ended with a mixed doubles' challenge that actually saw some adult doubles' teams face some of the teens and, boy, did they give us a run for our money! It was all in good fun and it offered us another perspective on the immense world of tennis.
The real highlight of the day for me was dinner. This, for the first time at our camp, happened to take place at the Queen's College dining room. The Queen's College is one of the oldest and most prestigious of the 38 colleges that the University of Oxford is comprised of. Its dining room is this imposing huge hall made of one wide and high vault, large oil paintings and portraits on the walls, Latin and English inscriptions, solemn wooden chairs, tables and doors and an overall décor that is nothing short of the famous Harry Potter dining hall (that actually belongs to the nearby Christ Church College). It's that kind of place you can hardly believe students get to eat their regular meals in during the academic year. You feel so special and even "underdressed" that you can't really picture it in a more every-day, more mundane, scenario. All our envy went out to the Queen's College's students while enjoying a delicious meal in the company of, again, our friendly bunch. Tomorrow we'll make sure the day-camp participants' envy goes out to us when we tell them about the place they missed out on!
The evening was topped off with a relaxing river-punting ride. This was something I was looking forward to as it gave us a beautiful view of the Magdalen College's botanical gardens and buildings from the water. I did volunteer to do the actual punting, pushing and steering the punt with this long and hefty pole, so my attention was a bit more focused on not riding over ducks or into other boats but I still enjoyed it and hey, mission: accomplished, we didn't capsize either.
Finally, headed for a quick pub stop where most of us agreed we'd like to join this camp again. Well, that definitely is true on my end, but let's see first how I do over the last two days of it...
Day 4: Wednesday 26th August - Team bonding
Today's theme was bonding. Obviously, us adults have been socializing and getting to know each other from day 1, when the tennis programme hadn't even started. Yet, today started with two unusual changes that made me think.
First of all, Giuditta left as planned. We bid her goodbye at breakfast. It struck me that only 3 days had passed but we had gotten to know her so much on and off the courts. I could see why so many participants before left touching comments about leaving their new friends.
Then, Fabrizio joined us again after missing the previous day. Fabrizio, a regular at our Oxford camp, had booked 2 weeks' worth of camp, that is last week and the current. He suddenly had to fly back to Italy for an unexpected commitment. Normally, I would expect anyone in his predicament not to bother coming back to the UK for "just" a few days left of camp. Yet Fabrizio, no matter how inconvenient his flight-times were, did bother to return, reaching Oxford at 3am and still showing up nice and (almost) ready at breakfast. His absence was felt during his day away, being him a very social, positive and proactive person and player. His dedication and commitment to this camp experience made us feel even closer to him.
Then we hit the court. Here we put in and intense but fun session, with Rebecca (non-resident participant) dubbing me her "partner in crime" (what a hoot!) between a joke and a passing shot (mostly, her shots passing me along the tramline...not so funny for me, Rebecca!).
Over lunch I had a chance to hold longer conversations with non-resident participants like Sally and Alicia and find out really interesting stories from different walks of life.
To fuel even more bonding, today was doubles' day. When we resumed to the courts, we trained on doubles' tactics and shots. Ahmed and Jeff proved that age can be on your side if you make the most of your experience. Chris kept working on depth and lobs (he's a good strategist). Rebecca kept passing me when I was by the net...
The afternoon session ended with a fun doubles' tournament. My court-partner was Katie, whose "slight" lack of experience was no match for her positive and fun attitude. Still, while we did beat by the skin of the teeth Francesca and Katharina (to be fair, they weren't in their top shape, lucky for us), our chemistry and enthusiasm didn't save us from losing to Rebecca (my nemesis!) and Vipra, whom I dubbed on the court "Viper" for how deadly his net-presence is. To think the guy pretty much just started playing! He was at camp last week and decided to extend another one...to my expense today.
Honorable mention for Kathryn (in my team with Fabrizio) who shows a brilliant confidence in her backhand but who was in my unlucky team, and Jillian, another loyal client who had to leave before the afternoon session but who's joining us tomorrow again.
I hope I haven't missed anyone. It's been a great day indeed, filled with lots of socializing also with Emily (ops manager and, today only, official photographer too) and the coaches, whether on the Magdalen College tour led by Carlos or at dinner (Suzie, your Spanish still mesmerizes me).
Day 3: Tuesday 25th August - I feel it in my fingers, I feel it in my toes
"I feel it in my fingers, I feel it in my toes". This is the first line of a famous song that might as well be today's soundtrack. Only, we should add I feel it in my shoulders, my calves, my every body part! The first day of camp yesterday proved to be quite intense and, while I may survive a whole week of it, I am in wonder at participants like Amine and Sophie who stayed 5 (five!) straight full weeks of camp, and this during the hotter part of the season.
In fact, I shouldn't really be complaining as the on-and-off rain is trying its best to cut me some slack. The coaches, on the other hand, dutifully aren't. In fact, knowing there was a high chance of rain forecasted for today in the afternoon, we were all told yesterday we'd start our morning session 1 hour earlier at 9am not to miss out.
This is why after a full breakfast we all showed up on the courts for a full 3 hours' coaching session. A lot of attention was placed on sliced backhands (lethal on grass courts!) as well as strategies to approach the net (including down-the-line and inside-out attacks) leading to a volley finish. I felt quite on-the-ball today, to the point where I was switched to a higher-level group to be more challenged, which was arranged by coaches Ralph and Paco (both great professionals, who coached me most of the day in the higher-skill group and who really pushed me). Not bad!
We then moved inside to lunch right when the first few raindrops of the day started to fall (imagine the "Wet Wet Wet" song on the background). Knowing about the forecast, the coaching team had already planned to switch activities to the indoor sports hall, where we spent 2 hours working in pairs to improve our feel of the ball, and even ending up playing some badminton. All in all we were once again able to make the most of an otherwise wet day.
Dinner tonight was at the nearby Cafe' Tarifa. Pardon my French, but we did pig out on tons of barbecue ribs, falafel balls, chips, fries, burgers and so on. Definitely my favourite place so far, the perfect one to bid Giuditta goodbye with her well-earned diploma (joining us for the second year in a row, she came for an odd but great 1.5 weeks this time around).
The evening was finished off with a meeting with the coaches about doubles' tactics and strategies. This, in view of tomorrow's doubles' tournament, is gold: we only hope we'll be able to remember and apply it all on the courts!
Day 2: Monday 24th August - Getting into the English spirit
What a day! We're in England and the old English saying "if you don't like the weather, wait 15 minutes" sure applied today, making our first coaching day fly by.
After a morning catch-up over a full English breakfast with my adult camp mates, we made our way to the courts. The latest weather forecast hadn't made us feel too hopeful for today but by the time we started at 10am the overcast skies were dry so, once head-coach Andrea introduced the coaching team and split us into groups, we hit the courts like kids storm their gift-packed trees on Xmas day.
My coach was Carlos, whom I had met for the first time last night over dinner. We had a solid hour of warm-up, forehand, backhand, volley drills and even video-analysis with the new Sony Sensor (read on for more about this wicked device) until the infamous rain we thought we had been cheating, settled in. Now, Carlos is from wet Galicia (northwestern Spain), which is probably why he was able to coach us even when the rain started to intensify, but second-in-command Gabriele wisely called it off shortly past 11am as indeed the courts were starting to feel slippery and, as die-hard as we may be, we need to play it safe.
We were all summoned into the clubhouse. The plan was quickly rearranged for some more video-analysis over serves (we won't talk about how I performed there..) then we headed for lunch at 12pm, while rain kept pouring over the courts.
I want to point out that at lunch I noticed nobody's spirit was broken or lowered by the weather inconvenience. We were kept informed about the ongoing plan-adjustments so we knew we'd still make the most of this day.
The plan for the afternoon was to have each our own session with Andrea analyzing the videos we shot before, while Gabriele lectured us about tactics and strategy using videos of Federer and Djokovic as (reliable) examples. I found both activities very interesting as I consider the mental part of my game a weaker area that needs attention so Gabriele's lesson was certainly welcome. Andrea's video-analysis showed with scientific and "brutally" earnest approach (we all think we look better than we actually do: the video won't lie!) what I hit and what I miss in terms of technique. The Sony Sensor (a device applied to the bottom of your racquet that, connected to a smartphone or iPad, gives you insight and useful technical data about your game) in fact made me feel quite good about how close I tend to hit to the racquet's sweet spot, how much spin I tend to give the ball and how that translates into a more (or less, depending) powerful and accurate shot. Quite mind-blowing if you want to really analyze and better your game.
With a new turn of events, we looked out and saw that the rain suddenly subsided so by 1:30pm we made it back to the courts. We had a full 2.5-hour session of drills, exercises and half-court single games over which I felt like I improved remarkably, especially thanks to Carlos's pointers and remarks about my need to work on balance, weight-load shift and proper over-the-shoulder follow-through.
As per plan, at 4:30pm we left the courts and headed back to our rooms or homes (for those who participate as non-residents) for a much-deserved shower and some rest. We then met again at 6:15pm to head over to dinner, which this time took place in an American diner which oddly enough showed a mix of US and USSR atomic-age posters on the walls. A randomly bizarre "cold war" reminiscent venue that added to our conversation.
To top off this eventful day, we went on to a much anticipated Oxford Ghost Tour, offered by our very likable guide Mr. Bill Spectre (pretty sure that's a stage name...). This was extremely entertaining and, whether you believe in ghosts or not, you couldn't help appreciating being led along some of the most charming and characteristic backstreets of this ancient town and filled in with some historical facts about them. It was a wet night but this only made the views of the towering colleges and narrow alleyways more real and "English".
That's it for today. Come to think, among the many things I've done today, there's one I missed, that is my daily progress report. I'd better do it now before Carlos finds out!
Day 1: Sunday 23rd August - Nice crowd, high spirits, all in all a perfect start.
Well, folks, after years spent working in our main office in London, here I am ready to enjoy a full week of our signature camp in Oxford, just like a client. I don't know if I earned it, but the excitement sure is high!
Today I arrived at the Isis guesthouse where all residential clients stay. Check-in was quick and Emily (our operations manager who, taking over Miriam's legacy in August, has held and run the fort just as well) was there to point me to my room and to give me a quick set of instructions, including when and where the welcome drinks would take place.
Once in my room, I found my very own JMT shirt and a welcome packet that explained time-line and details about how life on and off the courts would unfold.
The meeting with coaches and Emily took place at 18:30. Through an array of videos, introductions, explanations and (silly) jokes by the coaching team whose members loved to tease each other, we were filled in about camp, progress reports, meals and whatnot. The energy was high and there pretty much was no ice to break, really.
Dinner was at a multi-cuisine restaurant where we all bonded while binging on a generous all-you-can-eat buffet (boy, do I have calories to burn tomorrow! I guess 5 hours' coaching will do). Then we took it to a pub around the corner from the guest house, where we shared our passion for tennis (Jeff, and old-time client who participated to our camp 30 years ago, made us all envious reminiscing of when he saw John McEnroe play at Wimbledon) and, forgive us, football.
Nice crowd, high spirits, all in all a perfect start.
Tomorrow's the real deal. Let's see how I do!
comments powered by

Disqus