Welcome to PAT (Player Analysis Technology)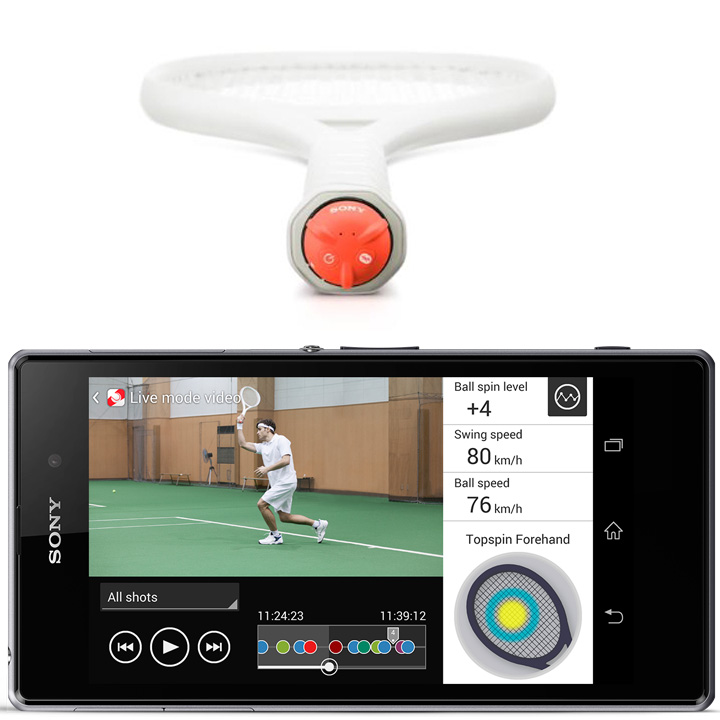 Welcome to the age of PAT! Player Analysis Technology has been around in tennis for quite a few years in the form of Hawk-eye and heart monitors. But it is the introduction of sensors on the rackets that promises to make the most significant changes to the everyday player.
Babolat were first into the market with their commercially available AeroPro Drive. The only disadvantage of the Babolat system is that it is integrated into the racket. The market is now set to develop further with the launch of sensors you can fit to different rackets. Zepp have just launched a version and the Sony Smart Tennis Sensor is due to land in the UK in May!
What is Player Analysis Technology?
PAT is defined as any equipment that collects, stores, transmits, analyses or communicates information on player performance, and includes items that a player wears (such as heart-rate monitors) or carries onto court (the racket), as well as devices located around the court (player tracking systems).
- The Racket sensor
This is basically a sensor attached or integrated to your racket which feeds information (via Bluetooth or similar) to a computer or smart phone. Different products have different features which include – power, impact locator, type and number of strokes, spin etc.. I will cover these features later in the article.
Why has it taken so long for tennis to introduce PAT technology?
In 2014 the ITF introduced Rule 31 which basically gave the green light to the use of PAT in tournaments. The one proviso is that 'players may not have access to data collected by PAT during play, except when play is suspended…'.
What can I use it for?
The technology is there to help you understand more about your game. It is very similar to what is happening in other sports. Football, skiing and cycling have been using technology for the last few years with sportsmen getting detailed feedback on their performance. Technology has actually become an integral part of these sports – helping participants to train more effectively to reach their goals.
- Improve Coaching Effectiveness
With this technology a coach will have more information at his/her disposal to understand your game better. Of course, it is the analysis and feedback which will make this technology really valuable. It won't replace your coach but just give him or her more tools.
Your coach will also be able to see what kind of sessions you have been doing – have you been practising your serve?
- Social Sharing
The technology will also no doubt be used on social media. Babolat already have a social sharing system where you can compare your game against others including Nadal and other pros.
- Our favourite features
Swing speed
Ball speed and spin
Sweet spot / Ball impact spot
Type and number of strokes – forehand, backhand, serve etc.
As with all numbers it is not the actual number that count but the changes you make over time. Can you get a higher percentage of shots in the sweet spot? Can you produce more power on your serve? Your coach can set you 'stat goals' to achieve in your practise sessions so making them even more effective.
Where it starts to get clever.....
Sony may be late to the party but their Smart Tennis Sensor promises the next big step – the simultaneous video recording of strokes along with stats. This is how Sony explain it:
Sony's Smart Tennis Sensor wirelessly connects with smartphones and tablets using Bluetooth technology with performance data spontaneously visualized through a complimentary iOS and Android supported application. Alongside showcasing real-time visualizations of swings including heat mapping and stats, the app can record rallies while simultaneously displaying shot metrics. Through the app's social sharing features, the Smart Tennis Sensor turns single and double player matches or practice sessions into an instant sharable experience across social media.
Sony Smart Tennis Sensor can be used on Head, Yonex, Wilson and Prince rackets.
Conclusion
PAT technology is here and is not just a gimmick. It is not just for pros – it actually has the potential to change the way we all train. We will certainly be using them at our camps so watch this space….
ITF Approved
Here is a complete list of ITF approuved PAT products.
http://www.itftennis.com/technical/player-analysis/approved-products.aspx
ITF – PAT Rules
http://www.itftennis.com/technical/player-analysis/introduction.aspx
See for yourself
Check out these video reviews for the key PAT racket sensors. Babolat win for the most hilarious video (Rafa Nadal is not an actor!)
Sony
https://www.youtube.com/watch?v=VPY6aLvTtJ0
Zepp
https://www.youtube.com/watch?v=H65wCpt44wM
Babolat Play
https://www.youtube.com/watch?v=U_nkw6aTLmo
Babolat and Rafa
comments powered by

Disqus