The key to stress free arrival on your Family Tennis Holiday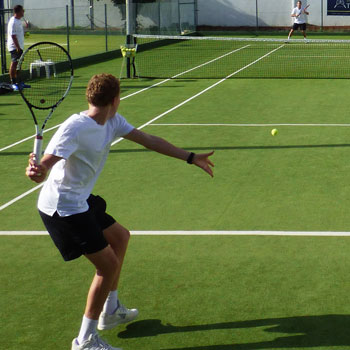 Inspired by my current visit to one of our most successful Family Weeks in Praia da Luz, Algarve, I thought it would be useful to share some of the pros and the (few) cons that families encounter in a tennis holiday, in particular, the hassle of actually getting to your destination!
Booking time away to be with your family and play the sport that you love is a great way to re-connect and escape the busy lives that we all lead. Tennis provides the focus and the beach/hotel/pool…the environment to relax in.
On my trip to the Algarve I had a chance to meet and greet many of our families and view their coaching sessions. I was thrilled to see the dad-son actions (when their levels were similar enough, as in the case of Christian and Max, the true stars of the week) as well as siblings being coached on their own while parents enjoyed group coaching with others of a similar profile.
Choosing a destination and package that meet a whole family's needs and expectations is hard enough but the challenges don't end there. When package and flights are found and booked, costs may add up significantly and the logistics should not be overlooked either as these can make or break your family experience.
Don't get weighed down by your family's luggage!
We've all seen the families struggle through the airport with mounds of bags and unhappy children (and parents). To alleviate the economic and emotional burden, it's been brought to my attention that more and more families (and groups) are starting to use the services of website like Luggagemule.com. For a fee way below the total of 3-4 family members' checked luggage inevitably added onto their flight, a door-to-door shipment of clothing, personal items, pushchairs(!) and gear (including tennis racquets!) can be arranged. The hotel receives the package scheduled to arrive at a time of your preference and convenience. I found that more and more clients are starting to use this service that may save you over £100 for parties of 4 or more. Imagine just being able to board the plane with hand luggage!
Arrive in comfort (and save money)
Travelling on public transport is rarely fun and when you add a family it can be seriously stressful. While several coach-companies offer shuttle/bus seats at prices that seem competitive for individuals, parties of 4 or more are usually better off booking a private cab. This may slash the per-person cost down to half the amount of 4 shared-shuttle tickets, but most importantly it will save tons of time and aggravation as these small groups won't be waiting for a large shuttle to gather as many clients as possible and then stop at numerous destinations on the way to theirs to drop off other clients.
Beware of the extra costs when renting a car
On the same note, based on personal experience, beware of rental cars. These may show an incredibly attractive price upon booking it on the internet, but the amount of hidden charges you may end up encountering dwarfs and cancels out any initial savings you thought you would benefit from. There are administration charges related to refuelling (no matter if you do refuel or not: you'll incur them), numerous add-ons you may need in a country you don't know (say, Sat-nav or additional driver) which have a relevant per-day price, but the worst is probably the hefty insurance, on top of the fickle one that's included in your dreamy price, that may be automatically added if you pay by debit as opposed to credit card. This may triple the initial quote, which rises way above the price of a round-trip private cab. I'm not saying you should never rent a car: only be careful and do your due diligence before jumping onto something that may look good to be true and then proves to be indeed, thus spoiling your vacation from day one. Who needs a rental car on a tennis vacation anyway? You'll be playing tennis every day!
comments powered by

Disqus