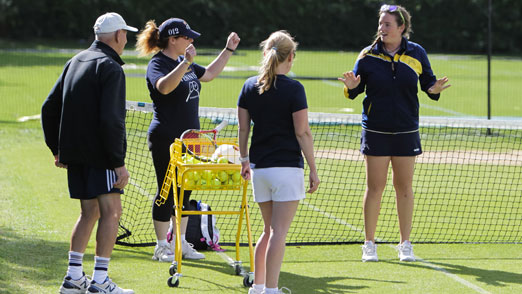 The recent 'Go Hit It' advert by the LTA has caused much discussion in our office. You can check it out on YouTube. Some of us love it and some of us don't! Whichever side you fall on it is great to see the LTA trying to promote tennis for older players – whatever their level! The advert also made us think about the changing profile of our clients in our UK camps.
One of the beauties of tennis is that it caters to any age. While the vast majority of our camp-clients are children and teens eager to take their tennis higher and higher, our adult-specific camps and clinics (as well as our holidays) are attracting an increasing number of more mature clients.
While for the younger crowd, who are still in school, the sky's the limit and the hopes to become the new Agassi or Nadal are alive and kicking, adults in full-time jobs or careers may not have as much time or stamina to dedicate to the sport. Nonetheless, they are still as die-hard as they can be when it comes to keeping their tennis alive and thriving, following the example set by a hero like Federer.
It's hard to put a finger on the key reasons for the tennis flame to keep burning. It may be the thrill of the competition, or the feeling of being progressing into something often just as challenging as your career, but definitely more fun. It may be just the memories it brings that create a sense of continuity between yesterday's self and today's. No matter the reason, tennis players past the school years are increasingly flocking to the courts.
It's not only about the experienced ones though. As we've come to find out, tennis is just as attractive to adult newbies as to kids or seasoned players. In fact, the contingent of improvers (those who have just recently picked up tennis) over 18 years of age often outnumbers those who are already at competitive level. This goes to show how timeless a sport tennis is: it's never too late to pick up a racket.
On the same note, whether it's from younger or seasoned players, all feedback counts. After participating in a holiday or a camp, everyone has useful tips and pointers that help us improve our offering. We make it a point to always receive honest, even blunt, reviews from all our clients, by email or, when we're lucky enough to visit them during their stay, on site, whether it's the Algarve, Mallorca or an adult camp in London or Oxford.
The creation of our camps in Brighton and Cambridge was indeed due to feedback from our adult clients and vows to the fact that adults are hungrier and hungrier for intensive tennis experiences designed just for them. While hundreds of players every year go on our tennis holidays and enjoy great coaching with our local professionals, adults are increasingly demanding the 30-hour-a-week action-packed plan offered at our UK camps - they are no longer just for the kids!
Furthermore, our adult clients from our signature camp in Oxford have been expressing their desire to experience new destinations, whereas the teens coming to camp year after year were longing for something more encompassing as they grew older. While Cambridge is the answer to the former, Brighton (with its "Coach in Training" programme) meets the desires of the latter.
All in all, we welcome young players as much as the older. Everyone brings something to the table and gives us a reason to keep offering an always new, progressive and updated offer. As long as your body and mind keep young at heart, you'll always be welcome to the world of tennis!
comments powered by

Disqus