British WTA Tour player, Emily Webley-Smith, has joined Jonathan Markson Tennis as our official Ambassador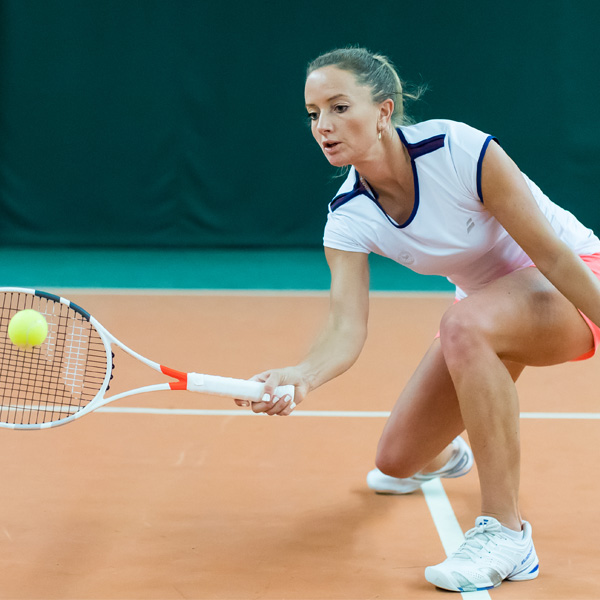 Emily Webley-Smith has joined the Jonathan Markson team to give our clients an insight into life on the tour. The aim of this relationship is to help players understand what is involved in professional tennis, helping players in their own preparation for tournaments whether it is at park / club level or even joining the tour themselves!
Whatever your level you can improve your tennis by taking a leaf out of the professional game. Matthew Cooke, Managing Director of Jonathan Markson Tennis, explains the thinking behind the new relationship.
'At Jonathan Markson Tennis we have always believed in treating every player as a potential champion! We use the strapline – Unlock your tennis potential - this is not just a nice phrase but one we genuinely believe in. Very few of us will become the next Roger or Serena but we can all improve our tennis by taking a professional approach. This is why, we have enlisted the help of Emily Webley-Smith. Emily will give us all an insight into the professional tour; including - winter training, diet, conditioning, travel, tournament preparation and lots more'.
Emily is currently in Cape Town training for the coming season. Before she left she did an on-court video and photo session with the team and commented on her new role.
'I am very excited to be an Ambassador for JMT. It is lovely to be associated with the team who share my passion for tennis. I want to share my experiences on the tour to help players develop, whether it be with their tournament preparation or improving their grass court game!'.
Emily provides the last piece to JMT's puzzle as the company has already enlisted the help of top coaches including Erwan Nicolas (JMT Technical Consultant) who is one of the top coaches in the UK with experience of coaching on the Tour and at the International venues.
Emily will be checking in with the JMT coaches and clients at the upcoming Technical Clinic in London (30 March – 2 April 2018).) She will be doing demonstrations and jumping into the coaching sessions!
Players will also benefit from Emily's technical skills as JMT has compiled a series of videos which will be used in dual screen video analysis at the clinics and camps! You can see a few examples on the company's You Tube site (link below)
Facts about Emily Webley-Smith
Highest ranking – 240 (WTA Singles), 114 (WTA Doubles)
Won 4 ITF singles titles, 18 ITF doubles titles
Reached 2nd round (Singles) at Wimbledon 2004
About: Jonathan Markson Tennis
Established in 1981 by pro tennis player, Jonathan Markson. The company runs tennis camps in the UK and tennis holidays abroad
The UK camps attract players from all over the world who come for a uniquely English experience in some stunning locations
Players from improver to advanced are welcome and the different camps can accommodate 8 year olds to adults
The No.1 provider of grass court tennis camps in the world
Located in 5 UK venues – Brighton, Cambridge, London, Oxford and Yorkshire
Located in 8 International destinations - Algarve, Fuerteventura, Mallorca, Lake Garda, Cape Town, Venice, Andalusia and Mauritius
Find out more:
Multimedia links
Contact
If you would like to find out more about Emily or our tennis camps and holidays then please contact Matthew Cooke - matthew@marksontennis.com. We can provide photos and videos should you require content for sharing on-line.
Thank you for reading now go and play tennis!
comments powered by

Disqus